Mandala Dance and Sound Bath
Inviting you to sacred Shakti Circle for exploration of Divine Feminine within us, understanding Women Power residing in our heart, for connecting to our body and soul in wholeness, increasing healing capacity from within, and bringing this wisdom to the world around.
These healing sessions with integrate sacred women practices of devotion, dance and relaxation, and heart-full circle for sharing.
What to expect:
Ceremonies to Vedic Goddesses connecting to powerful energies within ourselves
Mandala dance
Sound Bath with Yoga Nidra with Singing Bowls
Women circle, sharing and sacred tea
Session 1: Kali and Energy of Transformation. Mandala Dance and Sound Bath. Goddess Ceremony and tea. 2 October 2020, 6.30-8.30pm
Focus on Letting Go old energy, opening for new energy of transformation to flow, obtaining inner power and strength for changes.
Session 2: Lakshmi and Energy of Abundance. Mandala Dance and Sound Bath. Goddess ceremony and tea. 9 October 2020, 6.30-8.30pm
Focus on connecting to Higher Self, seeing abundance around and raising vibration for abundance to manifest in life, visualizations of dreams to manifest.
About Mandala Dance:
Mandala dance is a deep practice of working with energy, body and consciousness, which combines in its structure dance movements, breath and attention skills.
The practice returns us into conscious presence in the body and gives the connection with the sacred organs, rooting us into the earth;
The dance is built in accordance with the geometric principle of the mandala and in its sacred structure keeps a center, outer form and internal substance. The outer form is the dance movements expressed through eights, circles, spirals and waves. They are danced through the internal structure of the body – the seven main life centers and the channels that connect them. The basic form is the figure of eight, the sign of infinity, which unites all the elements, directions, qualities and builds a balance of our energy in the body.
Mandala dance is the process of energies alignment at all levels, it is the healing of the body and soul, it is a reunion with all female and male manifestations. Through the Mandala dance there happens a harmonization of internal and external parts of ourselves at the level of body and consciousness.
About Sound Bath with Singing Bowls
Deep relaxation with the sound of ancient Himalayan Singing Bowls and angelic Crystal bowls, mantras and overtone chanting, bringing state of bliss and wholeness. The practices of Sound Energy Medicine have been existing since the ancient times in many civilizations, in many forms – starting from healing with Himalayan Singing Bowls, Gongs, Mantras, prayers and overtone chanting, and up till now when Music and Voice therapies are part of conventional and complimentary medicine.
Physiologically, the relaxation response initiates the following changes, here are few of them:
Decreases the pain, both physiological and psychological
Decreases anxiety and stress, fatigue and depression, nausea and headache
Balances blood pressure and stimulates blood circulation
Slows heart rate
Slows respiration rate and normalises the breath
Relaxes muscles
Changes viscosity of phlegm in lungs
Skin surface massage and deep tissue massage
Deep massage of intestines (often resulting in improvement of constipation)
Analgesia
Reduces stress-hormone levels (Cortisol, Beta-endorphin and ACTH)
Improves quality of life
Improves reproduction function
Binaural rhythms synchronise the brain which brings it to state of alpha-, beta-, theta- waves, balancing the work of all body systems and organs as a result
Your Guides on this Journey
Olga Mazur

Psychologist, professional coach, instructor of female practice Mandala Dance in London.
"For more than 10 years I have been studying female nature through bodily practice, breathing, energy practices and meditation. I visited the ashrams of India and Bali. I lived in jungles of Peru, where I learned about the structure of the world, male and female nature.
Through questioning technique, meditation and female practices, I help women on the following topics:
how to blossom into femininity and natural sexuality
help to build a harmonious relationship with a man
recover after divorce"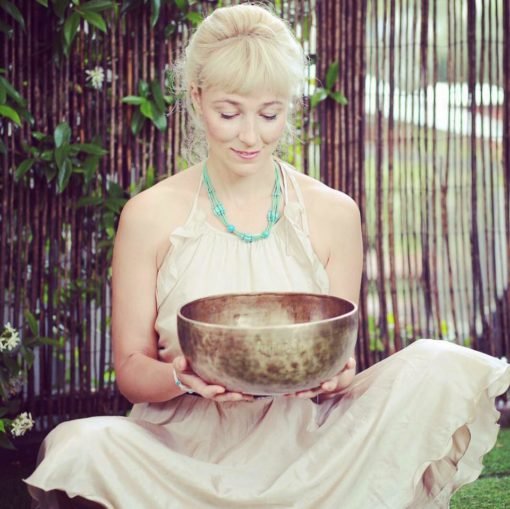 Lola Lhamo is the founder of Sound Energy Medicine Practitioners Association (SEMPA), teaching Sound Healing, and Shakti Mandala, centre for Women Practices.
Lola has connection with yoga, sound and energy healing from childhood. She was blessed to study with Indian yogis and Tibetan lamas, and after 25 years of practice she created LHAMO Yoga & Sound Energy Medicine educational programme, integrating Himalayan Hatha & Kriya Yoga, Pranayam & Meditation, Yoga Nidra and Sound Journeys, Taoist Qigong & Yin Yoga, Tao Cosmic Healing and Buddhism Mind Yoga, and QUANTA Reiki.
Lola founded Sound Energy Medicine Practitioners Association in 2013, believing the sound to be the medicine of the future. She teachers Sound Energy Medicine courses.
Lola also founded Shakti Mandala project, supporting Women in their transformation, also creating White Tara Foundation to finance education for women after trauma, who needs new start
Location of events
Lhamo Yoga and Sound Studio – private retreat space with beautiful garden located at 99, Truro Rd, N22 8DH (Piccadilly line Bounds Green or Alexandra Palace, 10min walk). Free parking
How to book
Cost of each event is £20
Please, bring flower for the altar, fruit or sweets for sharing after ceremony.
Please, wear comfortable long skirt/dress for Mandala Dance.
You can book by link below, or confirm your place to Lola Lhamo by email lolalhamo @ gmail.com Mob: 077 570 93532